Large, complex sign project? No problem.

For this client, we handled the project management over an eight-month period and coordinated all the logistics and parties involved. We're fortunate to work with experts across many disciplines!
This project had several moving parts and considerations. Our robust sign design process ensured everything went smoothly at every step of the way.
Recommended sizes for the panels and wall graphics that would be appropriate for the space.
Provided recommendations to the architect regarding wall construction to properly support installation of the planned panels.
Supplied detailed illustrations and visual mockups to scale, which allowed the client to see exactly what the finished installation would look like.
Commissioned a fine artist to create custom panels to bring the donor wall to life with color as mirror windows in the Temple.
Coordinated fabrication and installed the dimensional lettering, panels, and vinyl graphics.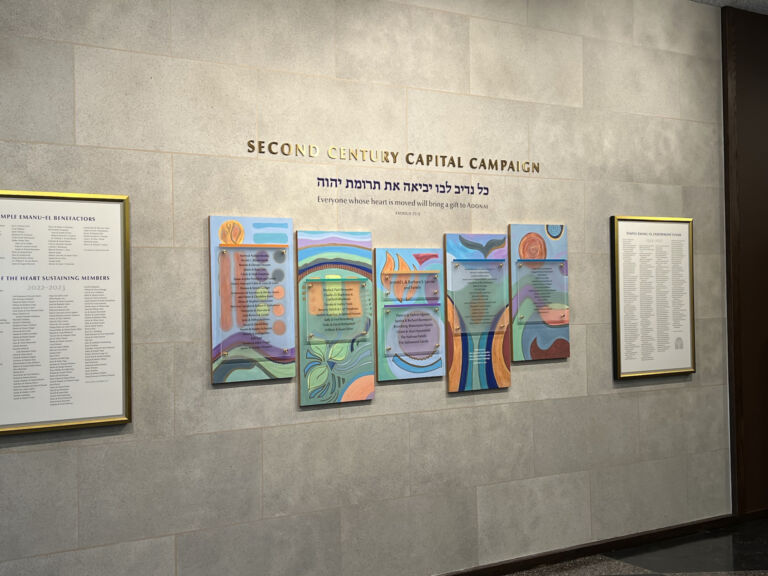 The "stone" wall in this photo is actually a faux finish, applied to look like the original wall!

This detail is subtle but indicative of the level of care and attention to detail that went into the project.
This project encompassed several sign materials. It was critical that they worked seamlessly together to create a unified and complementary final visual impact.
Sign Elements Included:
Solid Brass Dimensional Lettering

Acrylic Hebrew Dimensional Lettering

Vinyl Lettering

Frosted Acrylic Panels

CNC Routing of Panels

Screen Printed Panels

PMS Color Matching & Digital Color Printing

Solid Brass Hardware matched to the existing brass finish in the Temple